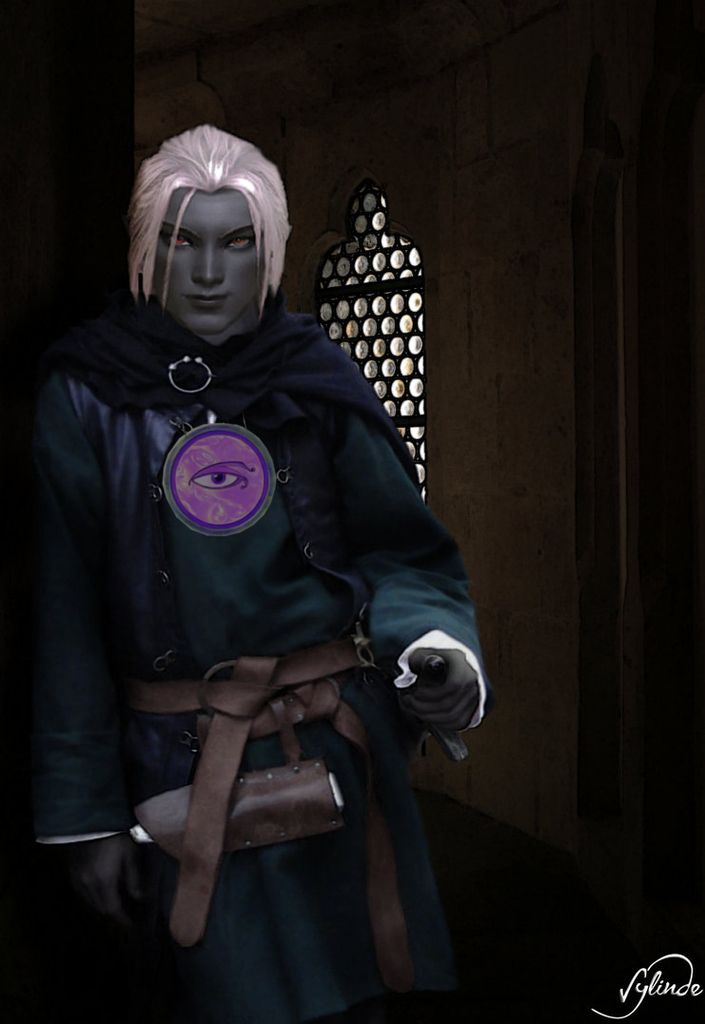 Alignment: Chaotic Neutral
Before the arrival at Sshamath....
Urebrill was born out of a surface raid gone bad, his Mother Eclavdra was captured by some human soldiers. For a few weeks she was raped repeatedly, she constantly plotted her escape during those dreaded weeks. She eventually escaped one night while the guards got far too drunk and passed out on duty. She made a dash for her home city, Llurth Dreier one of the only Ghaunadaur worshiping cities in the Underdark.
After a few months, it became that she was pregnant. She dreaded the thought of giving birth to a disgusting half breed, an eternal reminder of her failure. After she had given birth to Urebrill, she almost immediately handed him over to the Temple to raise him as a priest, not even bothering to name him.
The temple wasn't too keen on accepting a half breed, but it is in their doctrine to allow all races into the clergy. As a baby and a small child, he was raised by a low ranking Priestess named Zarra, She spent years teaching him to survive. When he became a older he was brought under the wing of a Drow priest named Ildan, he taught him Ghaunadaur's holy doctrine and prayers. Urebrill seemed to be a natural and rarely studied, instead he would play with the various Oozes that lived within the temple. He always seemed to like them more than he liked other Drow.

Years later Urebril, now a young adult and a full fledged priest in The Elder Eye's service, was preforming many duties for the temple. Primarily the gathering of live sacrifices and even preforming religious services for the faithful. A rival priest within the temple grew jealous and came up with an idea, a missionary expedition. Urebrill was a guaranteed candidate due to the language skills he possessed. He was to Travel far to the north east, with a few childhood friends and talk to the various humanoid tribes and attempt to convert them to their faith
Urebril was not too keen on this idea, as the others he was sent with had little to no combat experience. After a few days to prepare for the journey, they set off into the maze like tunnels of the Underdark. They had minimal success with the tribes, most had no interest in converting or even outright attacked them.
They were a months way from Sshamath, when their group encountered a Drow raiding party. Their armor bore symbols of Llolth, a deity that they had heard nothing positive about. They were very inquisitive at first, but they noticed the symbol of Ghaunadaur on one of the priests and attacked. In the confusion of the battle Urebrill slipped away, as his friends screams of pain echoed through the corridors.
It wasn't too bad, the first few days as he still had rations and water to keep him going. The screams and images of his friends being slaughtered haunted his every waking moment. At first he had no idea where he was going, but fortunately he found a traveling caravan of Gnomes, they told him the closest non Llolth controlled city was Sshamath and was weeks away. He asked if he could join the caravan as that was where they were headed, they asked for payment, but they would keep him fed on the trip. He had no money to pay them, so he had to give them his favorite war hammer. When he arrived in the city, ghe was in awe, it was nothing like he had seen before....
Urebril's Journal
Before now I haven't had any time write since I've arrived at Sshamath, But I have found peace in this dark Sewer. Since I have arrived, I have made many friends and many enemies and I have successfully established a gathering of Ghaunadaur's faithful. Drail, this jaluk is the one I have traveled with the most, I even inducted him into the faith. We established this.."cult" together. Another important individual within our organization is a earth touched human by the name of Jellyjaw, do not know much about him other than he's a wizard with a keen interest in Oozes. Beyond those two my congregation consist of many former slaves of many different races. I had sent a letter to the conclave asking for a seat on the council, but alas I have received no reply. I plan on showing up anyways and I

will

get a seat on the council. Drail, had brought news of a mage who is a member of this group simply called "the Coven" I know nothing about them but a meeting will be scheduled. Hopefully they will prove a good ally as we have few currently and many enemies...

_________________


Urebril Half-drow priest of Ghaunadaur, from Llurth Dreier (currently trapped on the surface)





Ilphrin- A half Drow Warlock (currently trapped in the far realm)





Vorn M'lezziir- Drow Hellfire Warlock, in the Sshamath School of Invocation and Evocation