Campaign Coordinator

Joined: Sat Sep 13, 2014 1:21 pm
Posts: 3766
Nyeleni wrote:
Black Bristles and Thistle rest a while at the site of the miracle near Triel.

The hin ranger offers some food and flowers to Chauntea after saying a quick prayer to the Supreme Ranger, Mielikki.

She is glad the land will heal again. She breathes already much easier and in the times of the undead threat, every respite is a glad one.


Deathgrowl wrote:
DM Dialectic wrote:
Triel Restoration

Some may have seen or heard of a large hurricane like event over Triel. After its alleged occurrence, it seems as if the top soil and air of Triel no longer seem foul or tainted, but instead fresh and renewed. Some dismiss this as rumor as it seems so long that many have tried to heal the land and air of Triel.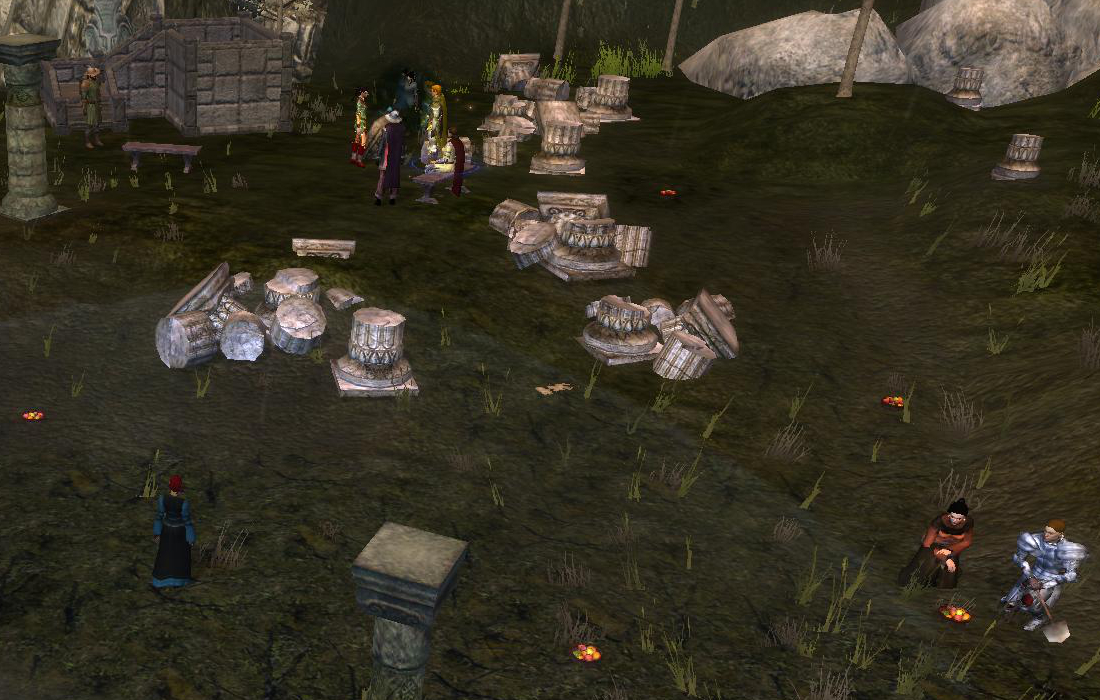 Days after these rumours, a group gathered near the old altar of Chauntea on the land that was once Triel. The various people gathered began to plant fruits and seeds around the shrine. As they finished, they assembled in a circle to offer prayers one after the other to the Grain Goddess.



The words offered to Chauntea:
Gaervin Goldenshield:
"Earth Mother Chauntea I beseech you to grant this land your boon. The land has suffered much in these past times, but we seek your aid to put that to an end. We vow to you our gratitude for your aid, we vow to you our fortitude to endure any hardships and to proceed with duty and we vow to our efforts in ridding the realm of taint and evilry. Mend this land. Please, and do it so that those that do not have a home may seek shelter, food and comfort under the shades of trees in New Triel. Not for us, but for any that may come after us."
Alison Schlump:
"Chauntea, bless this land and bring forth life from what was once nothing but death. Like the circle of life. We beseach you in the name of life and freedom and beauty. Of nature."
Luke Darius:
"Grain Goddess, we ask for your hand to be upon this planting, to grow and nurture it... so it will grow strong and provide for those of your faithful... so that we may reap what we sow both of the land and in our lives... "
Alesea Abbot:
"O Earthmother, you command the earth to bring forth vegetation and every fruit of every kind. You provide the sower with seed and give bread to eat. Grant, we pray, that this land, enriched by your bounty and cultivated by our hands, may be fertile with abundant crops. That all will be enriched by the gifts of your goodness in this place. Grant this we pray; bless us and give success to our work." She pauses, then continues devoutly, "O Morninglord, lift Your countenance upon the scars of this land and shower it with the warmth of Your Light; with a new and fruitful Dawn so that your promises are made known to all who bear witness to its rebirth...for from death, there is life. Amen."
Kana Goodheart:
"May rebirth bring back the balance of life."
Eldarian Al'maire:
"We praise you for the winds, pregnant with blessings; for the clouds which navigate and for the constellations, there so high. We praise you for the fresh streams, for the endless mountains, the trees, and the grass under our feet. We praise you for our senses, to be able to see the moving splendor, to hear the songs of nature, to smell the beautiful fragrance of the spring flowers. We remember with shame that in the past we took advantage of our greater power and used it with unlimited cruelty, so much so that the voice of the earth, which should have arisen to you as a song, was turned into a moan of suffering. May we learn that living things do not live just for us, that they live for themselves and for you, and that they love the sweetness of life as much as we do, and serve you, in their place, better than we do in ours. When our end arrives and we can no longer make use of this realm, and when we have to give way to others, may we leave nothing destroyed by our ambition or deformed by our ignorance, but may we pass along our common heritage more beautiful and sweeter, without having removed from it any of its fertility and joy that you have so blessed it in Your grace. Amen."
Telia Santraeger:
"Grain Goddess, once I stood here to oppose those who tried to do good. Today I stand here, to support the very same people. I hope you can see and know, that I never had intended for this foulness to befall the lands here. It has pained me and I have offered what I can do right the wrongs. I hope that you can see and feel this. Like with a different garden... - I hope that you can aid us - to bring life back."
Merlara:
"The Great Mother, You have done much for us in providing life through substance yet we must ask for more. Please take back this stolen land, ease its suffering so life can flourish within your warm embrace and so all may once again experiance its beauty. "
Vendor Xon:
"We return thanks to our mother, the earth, wich sustains us, we return thanks to the river and stream wich supply us with water, We return thanks to the corn and to her sisters the beans and squash, wich give us live. We return thanks to the bushes and trees wich provide us with fruit, We return thanks to the wind, moving the air, has banished diseases. Let these plants grow and help to recover the land. It has suffered to much. Let it flower. Chauntea be belessed."
Ivan:
"Chauntea, a mistake was made that allowed this land to be tainted and your shrine desecrated, I hope our work here and our prayers will be able to correct that mistake, restoring your bounty and bringing life back to this desolate place."
Ameris Santraeger:
"Golden Goddess, your hand is in all that grants us life. The fruits of your blessing fills the stomachs of lords and kings; and the hard working workers in the fields. Its not you who lets people go hungry; its not you who squanders your gifts in excess. You are generous to all, and free in your love to all those who would treat the land and your blessings kindly. Mortals have been unkind to the land here, and unkind to each other. Blood has watered this soil; the blood of innocents. Yet you did not withdraw your gifts; they were sundered from the land in the most horrible of ways. Even in the darkest of days there was a spark of your grace here, waiting for the penitent to find it and call it forth. We thank you for that spark; that candle you never let go out. That green shoot which we have longed to see grow. We thank you and honour you for never giving up on us, and this place. The winds of the Seldarine blew clear the taint; so that your gifts to flourish here once more. We beseech your former generosity; we ask you that the green shoot becomes a verdent harvest. We long to see green and gold here once more and ask for your blessing to make it so. A gift from you, since the dawn of time, to all of us; a symbol of man and nature in harmony, not at odds. We honour your hope for us, Golden Goddess, and we praise your name in this place holy to you. Chauntea, grant your gifts again in this place."
Laitae Lafreth:
"I failed once in protecting your land, Great Mother. It was claimed by plague and maggots in my failure. I thank you for giving it one more chance and guiding my friends and me who are gathered here to try to heal it. With the help of you and Aerdrie Faenya, we succeeded in the healing. Now, Grain Goddess, we pray for you to reclaim the land that was taken from you. Expell whatever grip the Lord of Maggots still has on it. Help things grow once more, as we plant your soil with flowers and fruits. Cleanse the water that runs through your earth and the air blowing in the leaves of plants growing on it. Guide us, Chauntea, in helping you heal the land."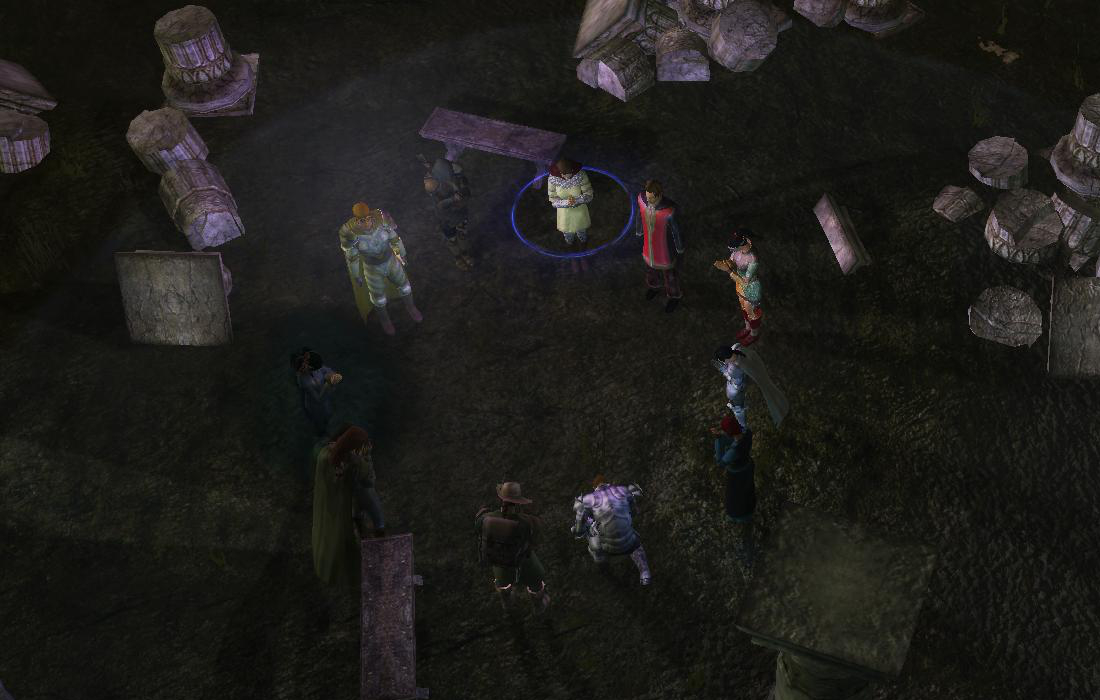 After the planting and the prayers, some of the people gathered started hunting down the remaining undead stragglers roaming the area, while the rest discussed how to best tear down the old ruins to help nature reclaim the land. A task they would likely return for later.
// Deathgrowl has not spellchecked the prayers of other characters than his own and is thus not responsible for typos! //
If travelers happen by the land that was once occupied by the town Triel in recent days they may be surprised to find the topsoil a healthy shade of brown and even the deeper earth steadily losing all remnants of blight. The air they would then breath would also seem to be as clean as the most pristine forest or mountains, dramatic differences from just a few months earlier. Fewer and fewer undead and blighted creatures seem to lurk about the land as well.

In one corner of the land they might even find a truly wonderous and new sight unknown to Triel for years. A small and healthy leafing plant rises from the earth, bathing in the sun and water that sprinkles upon what may be a new Triel. But it is not Triel any longer. Civilization has left it behind. Only ruins remain. Reminders of mistakes of the past, but also of hope of even tainted earth's renewal for the future. The structures of humanity are not all that can be rebuilt by joint effort, however. In another field upon what used to be Triel, another sprouting of green shoots from the earth...and another...and another...

_________________
Lore Base of the 1352 Campaign

Campaign State of Affairs - 1352 - Year of the Dragon