Template For Character Creation Reward:
* Valqis has been on BGTSCC for almost two real-life years*
First Name:
Valqis
Last Name:
Sanejmeh
Her full formal name as she would say it is:
valQiS SanejmeH puqbe' martoq ghilqa je
Appearance:
Ethnic features more typical of someone from east-Faerun than the Sword Coast. Naturally tan skin. Her beautiful eyes are encircled with dark ancient Egyptian-style eye liner. Her fingernails are expertly manicured shiny black. She is curvy and median weight for her height. Many persons would consider her very beautiful.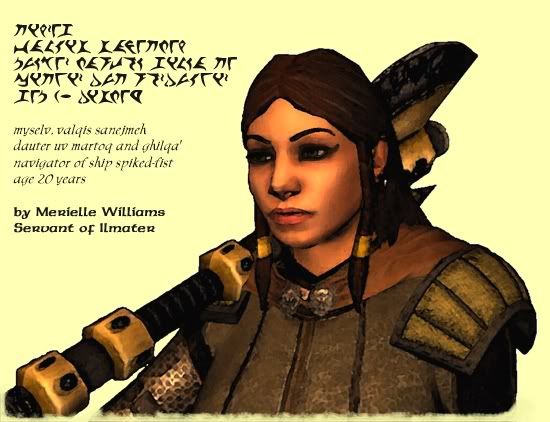 Race:
Human
Age:
22
Height
5'5"
Weight:
135 pounds.
Eyes:
Hazel
Hair:
Taupe which reflects silver strands when exposed to moonlight.
Facial Hair Style:
None.
Personality Profile:
Valqis is an explorer at heart. Sanejmeh means "you-explore-for-us" in her native language. She was born under a full moon on the Spring Equinox and therefore became a person of interest to the local priestess of Nut (see Deity). Valqis was educated and raised in the upper echelons of her home island's society, where she is considered a noble. She is social, well mannered and polite. She can also curse like a sailor when she becomes angry or frustrated. Valqis can be playful or very flirtatious. She is not afraid to use her feminine charms to persuade someone to get what she wants. She is a loyal to her family, (few close) friends, and Candlekeep. She is generally friendly but neutral to everyone else.
She developed innate magical abilities after her arrival on the Sword Coast. She vaguely understands magic. She does not consider herself "blessed" by Nut but does recognize the special gift she has, which is a result of being born under a full moon. She is very put-off by others claiming to be "favored" by their god. She is suspicious of "cursed" persons (warlocks). Otherwise, she is very much a live-and-let-live-unless-they-are-obviously-wanting-to-kill-me-or-you mindset with respect to other's beliefs.
Valqis is very task oriented. She travels frequently which she enjoys. Unfortunately, she is uncomfortably aware she has 4 places she can call "home" and wonders how long she can remain this ungrounded. Meanwhile, she performs her duties but wants something more. Other friends' marriages and her sister's marriage and recent motherhood caused Valqis realize what that something could possibly be.
She also enjoys performing at the theater. She likes ales and red wine and is prone to overindulge. She avoids whiskey.
She has a fear of spiders.
General Health:
She is in generally good health with no significant lasting scars. She is toned but not buff. She is very limber and steady on her feet.
Deity:
Nut, godess of everything to do with the distant sky, sun, moon, and stars. Beliefs approximate equal to those of Selune'. Nut is the wife of Mulhorundi pantheon god Geb. On Valqis' home islands, Nut is believed to be their mother creator. Valqis' eye makeup and black painted fingernails represent Nut's eyes and hands watching and tending to Toril from the distant dark sky.
Initial Alignment:
Began as TN but slowly shifted to NG.
Profession:
Ship navigator, cartographer and stellar cartographer by training. Later became a Reader at Candlekeep. Her research focuses on mapping distant places.
Base Class & Proposed Development:
Already L30 (mostly bard)
Habits/Hobbies:
Since coming to the Sword Coast, Valqis joined the White Mask Theater guild as a singer. She also plays a drum and dances, though singing is easily her strongest skill. Over time, she became a very accomplished and recognized figure in Baldurs Gate performing arts. Her "axe song" was considered quite innovative or shocking or bawdy depending on whom you asked.
Valqis is a proficient painter and song writer.
Languages:
Valqis can read, write, and speak Qarnaqi (home islands) and Common launguages. She
Speaks witlh a tlhik aksent.
She avoids using words with similar sounds but different meanings. (e.g. She refers to the direction as
starboard
. 1+1 = 2 is a
correct
statement. You use a pen to
rite
.) She can read and write some Mulhorundi hieroglyphs.
Weapon of Choice:
Longbow; it is a natural extension of herself. She is also proficient with a great axe. She learned to use it as a test by her ship's captain to prove she was worthy of serving on his ship (and not just a pretty face and sultry smile).
Background:
Valqis is from distant islands in the Trackless Sea collectively named,
"Qarnaq."
Valqis is the first born daughter of an important family of her home islands. Her father is a shipwright. She has two sisters and youngest brother. Her parents and siblings are living on her home island. The oracles of Nut noticed Valqis' interest in the night sky and natural ability with geometry. They encouraged these interests by teaching her various celestial studies, cartography, stellar cartography and the associated math.
She was always a curious explorer around her homeland island, hence her Coming-of-Age name, "SanejmeH" (you-explore-for-us). Valqis is also musically inclined often singing and dancing with others at the temple of Nut. However, her duties were always first with the maps and math; not music.
Read more about Valqis' home islands here.
Two years ago (1345 DR), Valqis set sail from her home islands on a ship named,
ro'DuQwi'
(fist-be-spiked) along with 12 other crew. There were two other similar ships. All three ships sailed eastward in search of lands-to-the-east as envisioned by the oracles of Nut. Their mission was to find these lands, record what they found, and then return home to report what they found. Valqis' ship found the Lantan Islands. But a few days later they were attacked by pirates near the Nelanther Islands. Valqis was washed overboard during the fighting which ended when both ships sank. She was found alone on wreckage by a merchant ship and eventually delivered to Baldurs Gate. About a year later, she was able to return home via a portal created by the then Guide of Candlekeep, Valerius. There she learned the other two ships never returned either. She later led an expedition to Chult and found 3 surviving crew members from one ship at a fishing village.
She slowly acclimated to the Sword Coast, learned Common and eventually found a home at Candlekeep. She also played a small part in the Bhaalist campaign serving under Sir Jonas Rokranon direction. She formed a romantic relationship with Emrys Kerr but ended it after discovering his curse, for which he was later mercifully killed. She dated Sir Justin Crownsilver of the Flaming Fist for a few months but that relationship ended with his departure to Tethyr not long after her initial return home.
Seeker Valqis accompanied a Candlekeep expedition to find an important artifact. The leader died in an attack and Valqis took command; eventually returning the party safely to Candlekeep after several diversions. She was later appointed Reader to study and use the artifact to further her cartography duties.
Goals:
She completed her primary goal of completing her ship's mission. The oracles told her to remain in service to Candlekeep to find some yet-to-be-known treasures. "The more you search, then the more you can find. You will know it when you find it." was all they told her.
Possible Plot-Hook Ideas and Misc Facts:
Valqis is the keeper and operator of a unique guild item for Candlekeep. First Reader Tethtoril told her with the item she will bring significant lore and artifacts to Candlekeep. The oracles of Nut gave her direction to remain at the Sword Coast in service of Candlekeep with a similar message. She suspects the Oracles telegraphed their thoughts to Tethtoril as dreams but dared not question them out of respect for their authority.