This Guide will cover the DMFI buttons and functions. It is again, intended to answer the most common questions about how to roll the dice and what each button does. What dice to roll when will be covered in a later Guide.
The DMFI buttons are located at the top of your screen. There are seven buttons, each very useful, and can aid RP, especially in DM events. We will go through them from Left to Right.
The First Button:

Is extensively discussed here:
Subject:

MUM'S GUIDES: PVP Basics
Remember, PVP can enhance and add to RP if handled maturely and properly. Not everyone likes it, but it is a good idea to have at least a basic and passing knowledge of it, even if you intend to avoid it at all costs.
The Second Button:

This button is used to roll your basic stats, and your saves. Clicking on this button will bring down a drop down menu.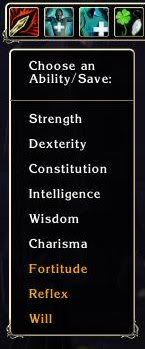 Clicking on the desired stat will roll the dice, and put the floating text both over your head, and in your chat log box. For Example, to roll Strength:

The Third Button:

This button works very much like the Stat button. It is for rolling skills. This is for when you are asked to roll a skill check. It has a drop down menu:
Clicking on one of the skills will roll the respective dice. If you do not have ranks in a skill that you need to take ranks in to use it, such as spell craft or slight of hand, you will get a red message stating such. To my knowledge Slight of Hand is bugged and for some reason registers as "Set Trap". It too will put text in your chat log and over your head. For example, to roll Concentration:
The Fourth Button:

This button is used to roll all other dice and combinations there in that you might need. Clicking on it will bring down a drop down menu: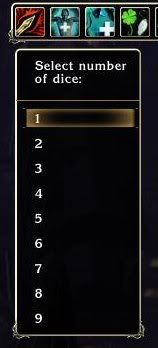 In this first menu you must choose how many dice you wish to roll. For this example we are going to roll one.
Then it brings down a second drop down menu: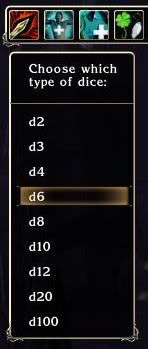 You may choose the type of dice you want to roll, as in how many faces/sides you want your dice to have.
Unlike the other dice, these rolls do not have a target. With the stats and skills, if you wish to roll against a particular player or npc, it is helpful to right click them so they are targeted. It can make it easier to keep track of who is on the receiving end of what. It will however, add a bit of text over your head and in your chat box. If you rolled more than one, it will show a total for the over all roll, not each die individually.

The Fifth Button:

This button is relatively self explanatory. Simply right click on a character or NPC and your character will follow them. Mind you this is a bit buggy. It will stop if your path gets interrupted and won't follow through transitions, also you can become stuck on objects ect. It also overrides any other commands. If you wish to attack or cast spells ect, you must click the little button that pops up underneath it. It will look like the follow button but with an X on it.
The Sixth Button:
The Voice Entry button is used for extra languages. When you first click it, a drop down menu will popup.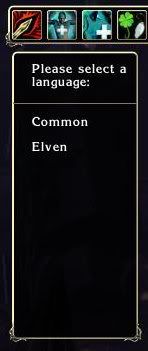 Bear in mind it shows your known languages. I have heard though that there is no way to scroll through this. If you know more than nine languages, it is advisable to select the top nine you will use most often. In this initial selection, it doesn't matter which language you choose, as it will always default to Undercommon.
To change it from the default to the one you wish to 'speak in', simply click where the name of the language is
Or click on the voice entry button again. Either way the drop down with the list of languages will pop back up again and you may select the language you wish to use.
As always, if there are more questions on this topic, do not hesitate to send me a PM. Hope this helps.

_________________


"Play nice." Mum




"Mercy, even to the least deserved."




"Revenge is beneath me, but Accidents happen..."




"Even Echoes fade to silence."