The purpose of this guide is to cover the most common questions I get about PVP. Mind you it does not cover every instance of what could be considered hostile action as most of that is covered in the rules. Role Play specifics are left largely to interpretation and common sense. By the end of this guide I will have hoped to touch on the important points of PVP mechanics. If there are further questions not yet covered here, I will try to answer them and include them in the future.
So, let's start with the DMFI Buttons, or at least the first one. I will cover the others in another Guide very soon. What are they, you ask? They are that small row of buttons found at the top of your screen, usually near your character portrait. (Note this image is taken post-update 7-31-2011. The other screens are pre-update.)
There are seven buttons. The First one is the Hostile Toggle. This is the button we are going to work with for now. It is the red one on the far left of the row of buttons.
This button is vital, and a much faster way to hostile and un-hostile characters before and after PVP. It is not the only way, but the quickest when you can see your opponent. I will cover both. To start with the button:
Step one: Read the PVP rules! This is a vital step. The Most important Step. Neglect this step and there are many many many problems. To complete step one, read here:
Subject: PVP Rules and Guidelines (MUST READ)
Step Two: RP the hostility. This step is up to interpretation, but it comes down to someone acting mad and someone else having the chance to either get mad back or walk away. If they choose to get mad back, continue RP and move to step three.
Step Three: Setting Hostile. Now, setting hostile doesn't mean that you have to start fighting right away. There can be more RP, and maybe even diffuse the situation. However, if it intends to come to blows, spells used, skills or feats used, and the situation can be construed as hostile. SET the other player to hostile. Step three is very important as not setting hostile is a serious infraction of the rules in step one.
To do so, first make sure the character you mean to set hostile is selected. This can be done by right clicking on your soon to be foe[1]. You will see his/her/its portrait now [2]. Then select the Hostile Button [3].
SETTING HOSTILE IS AN OOC ACTION. It is considered metagaming to use this as a means to find the location of an unknown opponent (for example: In an assassination). I repeat, it does not mean that your character will die or that there will be a fight, simply that it is a possibility.
Now, you will note that their character is now red (hostile) the attack cursor is now active [1]. Game AI will auto target and auto attack if you are attacked by any enemy, so be careful of wolves attacking and standing to close to your foe if you do not intent to cut them down for being arm's length away. The portrait will also change, don't panic, they haven't disappeared, just a game mechanic. It does not mean they are invisible ect. [2].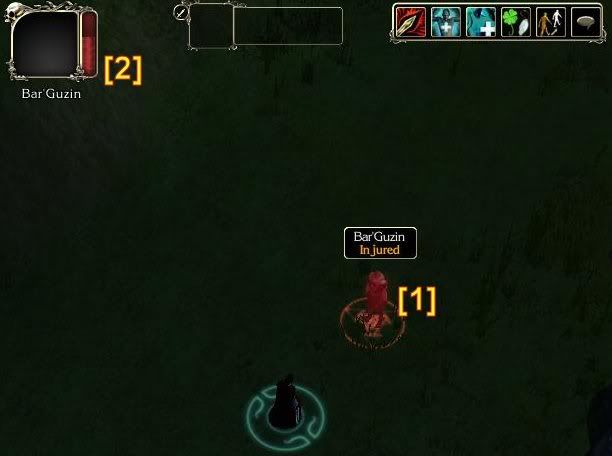 Step Four: Closing PVP. Once the hostilities are done, and RP resumes… it is a good idea to un-hostile them before the PVP timer (the coughing and wheezing ect) is finished. This is because you cannot un-hostile them, if you used the button, unless you can right click them and turn the toggle back off.
Now. An important set of notes on this PVP timer. Your character should not die at this time, but on rare occasions it is possible with certain abilities ect. It is bad form to leave your opponent in the Fugue Plane. It has been recommended in the past that you carry with you a way to raise your enemy if need be. Dying and going to the Fugue will bug the PVP script and you will not be able to send them back to their start location.
**Side note on corpses. If you try to raise them from the dead before they have loaded into the Fugue Plane, it WILL BUG THE CORPSE. This goes for any situation. Especially when the server is laggy. If you intend to resurrect or raise a character, please give them time to load in before you do so, or send them a tell asking them to tell you when you are there before you raise them. This prevents the bug where the character remains stuck in the Fugue Plane, and saves the DM team loads of time, and confusion.
Once the PVP timer has run its course, the character will stand up at full health. (this means you don't have to heal them while they are down.) However, just because you stand up, full health and right as rain, does not mean you may continue to fight, RP ect. The fate of the loser of PVP is decided by the Winner, or DM present (if there is one, and only if).
If the Victor says opponent is unconscious, it stands and all parties involved should RP accordingly. If the Victor dead, then the opponent is dead and should not RP until someone with the means of raising them has done so. The state of the body (please keep your RP within the PG-13 rating and be decent about it. This is to say no corpse rape and what have you. Looting of the bodies, searching ect should be done by consent from both sides, accompanied with Screenshots, and preferably with DM oversight when possible.) It is also up to the Victor whether or not the opponent remains where they are. At the end of the PVP timer, the game will pop up a box asking if the Victor wishes to send the character to the start location. This is simply a yes or no question.
It is a good idea to get screenshots of the RP before and after PVP. Be sure to screen shot the combat log portion too. Sorry but I have not found a way to log the actual attack rolls and combat information on a fight. Your most reliable resource is Screen shots for this.
Now then, let's go back to the assassination example. First, it is important to remember that assassinations are extensively and specifically covered in the PVP rules. These MUST BE DONE WITH DM OVERSIGHT. It also opens the door for a good example for the other way to set hostile.
Let's say you cannot see your opponent on the same screen, or wish them hostile for things like the tracking feat ect through the course of hostilities. Providing that step one and two are both complete and we are at step three, you may use the Player List. Now, remember that the button is Line of Sight Only. In instances like this where there is no direct line of sight or you wish to set them hostile in advance, you may set them hostile by opening the Player List. The List can be found in the game menu (clicking the 'eye' in the bottom Left corner of the screen).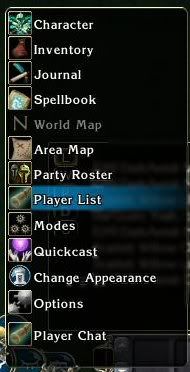 Then you simply find the character you wish to set hostile and click the little sword button. [1]
This will set them to hostile, and you will see a yellow message in your combat log window. [2]
Again Setting Hostile is an OOC action, and should not effect RP. In other words, don't rest and buff as soon as you see this message or run and find ten of the strongest players online.
To un-hostile a player through the player list, click the shield. [3]. Both players must click the shield on both sides for this to work and be completely un-hostiled according to the game. [4]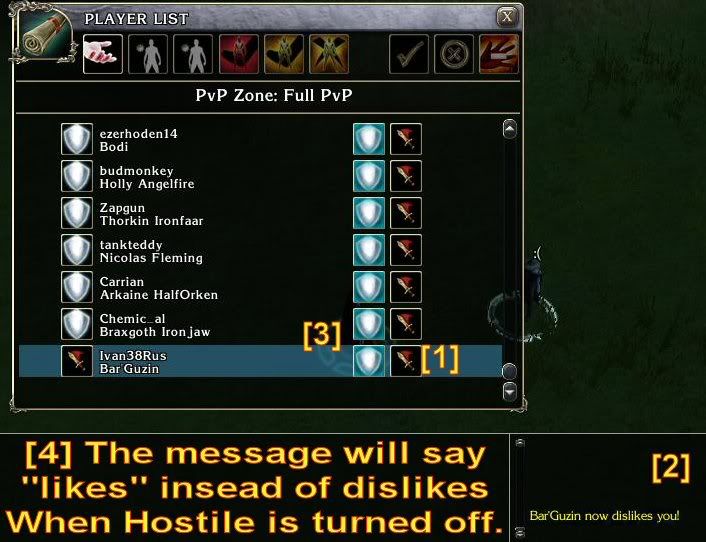 Death Amnesia and the 24 Hour Rule:
These are another misunderstood and often overlooked aspect of PVP. Very simply you do not remember the immediate events leading to your death. You do not remember faces, names or conversation immediately before you were slain. The only way to find this information out is through eye-witnesses, or if your killer makes him/herself known after you are resurrected/raised. You have no clear IC memory of the fight, the Fugue Plane or anything that happened while you were 'dead'.
The 24 hour rule means you cannot have contact with each other once PVP is done. This rule is quite literally in place to prevent griefing and 'revenge' killings that go back and forth and get ugly. While it may be impossible to not 'see each other on the road' or something… Simple steps can be taken to see that you aren't both in the same area more than bare minimum needed. The most important aspect of this rule is that the two opposing parties cannot speak to, RP with, have undue contact with, or attack each other for 24 hours.
There can be extenuating circumstances that might lead to contact between the two, however this should be handled with consent from both sides and with maturity and understanding. If these situations do arise, it should be expressly understood by both sides that they cannot PVP each other until the 24 hour period has passed. This means if you fail an assassination attempt… you cannot try again for 24 hours.
Note: Friendly sparring doesn't bear a 24 hour rule. As it is friendly and usually does not end in death.
OOC Notes:
Griefing, especially OOC is absolutely, without a doubt, bad form and shouldn't happen. EVER. If there is a disagreement as to how PVP was handled, please… on all sides, take screen shots. When you bring it to DM/Staff attention, please do so politely, calmly, and with Screen Shots. Rude, whining, demanding behavior… even if you were wrongfully slighted, or a victim of rule breaking… isn't going to set well with the staff. You will find that those who must deal with issues can do so faster, and much more effectively if it is handled civilly. If no DM is available online at the time, you may send a civil and polite PM to the staff. You will be asked for screenshots, so take them, please. For information on how to obtain Screen shots, please see the guide on screenshots:
Subject: MUM'S GUIDES: Screen Shots
Finger pointing is not to be done publicly on the Forums, nor is the forums to be used to air dirty laundry. For Reference, please see the Forum posting Rules:
Subject: Forum Rules
There is no excuse for not knowing the rules of PVP. There is also an item in the inventory on every character, though I am unsure if it has been updated in light of recent rules clarifications. I once again refer you to the top of this Guide, and step one. Most of the rules are clear and concise, complete with examples, however if further clarification is needed, do not hesitate to send me a PM and ask.
It has been joked in the past that you must even set hostile before casting something as simple as a light spell on a person. I urge common sense in all situations of course. However, if you are a character with light sensitivity, and this can be seen as hostile in character, it is understandable how that statement could be made. I don't expect you to set people hostile for healing spells, every single time. You are expected however, to set hostile ANY TIME RP WILL COME TO BLOWS. This means weapons drawn, fists flying, spells/feats used with the intention of harming, halting, killing another character.
IC and OOC should be kept separate. OOC dislikes or prejudices ect should have no bearing on why you initiate PVP. If you are going to Initiate PVP it should not be 'for the sake of picking a fight at random'. There should be a valid reason IC, and it should be RP out before any fighting takes place. If you cannot get along with a -player- (note that I am talking about the face behind the character, not the character on the screen) I advise not only avoiding the player and his characters, especially if things tend to get heated… and utterly avoid PVP with that -player-.
Running away in PVP is permitted. Intentional transition hopping is not. What is transition hopping? That is when you go into an area transition and then immediately transition back to try to 'lose' the other player, or buy yourself time to buff ect. It is usually punished harshly, those caught are dealt with at DM discretion. It is usually harsh and unpleasant. My sincere advice is to not do it, and avoid the problem all together.
Note… if someone is following you, and you cannot beat their hide or move silently with either your spot or listen, but you can still 'see and hear' them come through the transition due to sound and VFX of spells, and you use that information to Meta-game that you are being followed, that too will be dealt with harshly at DM discretion. Use of spell effects be they sounds or visuals to determine spells is also meta-gaming. If you cannot cast the spells yourself and/or lack the spellcraft skills to identify the spell, then you don't know what kind of spell it is. Period.
As always, if you suspect or are the victim of meta-gaming, please take screen shots and notify the DM staff in a polite and civil manner.
This should cover the very basic of PVP, further questions and requests for clarification may be sent in PMs and I will answer them as I am able. PM me and let me know if I missed anything important.
A special thanks goes to Ivan38Rus, DM Napoleon and DM Dark Aerial for their help in getting screen shots and info for this Guide.