Screenshots, one of the game's most useful tools. Be it for that awesome looking moment, remembering memorable RP, keeping records for many reasons, insuring accuracy in quotes ect. In those moments when bugs and glitches, metagaming, PVP, or any other disagreement comes to pass, they are also vital to have for DM and Staff use. Someone breaks the rules? They need a screen shot. Game ate your gear? They Need a screen shot. Want to remember what you overheard at an important secret meeting? Take a screen shot. A vital and important thing. The problem is, most people don't know how or when to take a screen shot. This post will address these questions.
Now, when you are in game, it is handy to check this from time to time. One thing I hear people complaining about is when the print screen key suddenly stops working. I have experienced this myself from time to time. Sometimes you simply need to reset the key binding.
Hit your "Escape" key. This will bring up the game menu. Select the Game Options Button.
This will bring a screen up: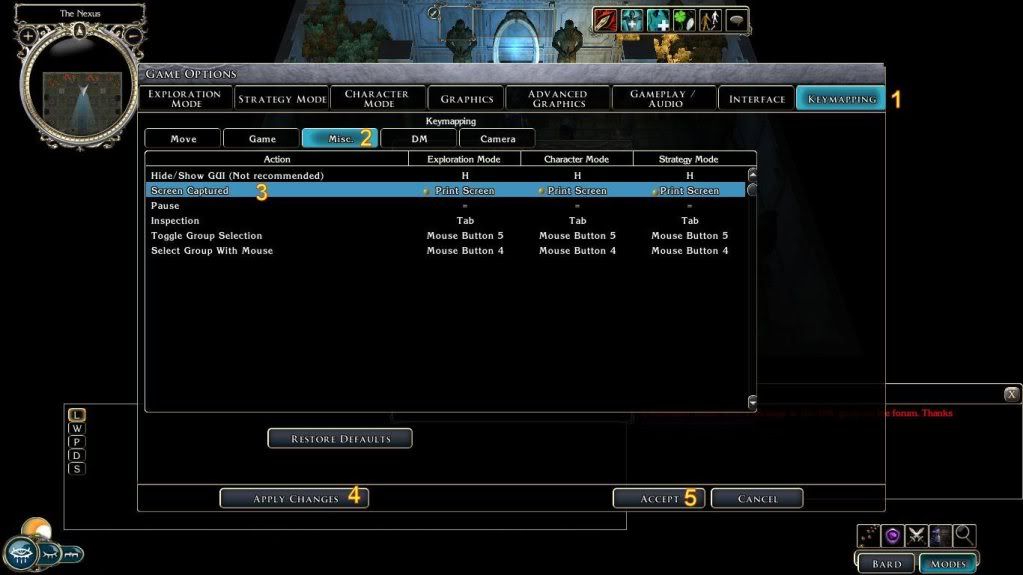 1) Click on the Keymapping Tab
2) Click on the Misc. Tab
3) Find the Screen Capture option. Now to Set the key binding (I use the same key for all camera views, but you may use different ones. I also use the Default PrntScr button (usually upper Right corner of the keyboard) Double click on each 'button' one at a time. Once you do this the 'box' turns reddish. Once it does this, simply hit the key of your choice.
4) Click the Apply Changes Button
5) Click the Accept Button
Optionally, if you haven't set many other custom keys, you may simply click Restore Defaults and it will set your screen capture to the Print Screen button. Then simply hit Resume Game or the Escape Key again to return to game.
Once this is done you may take screenshots by hitting the desired key. When you do, you will see the yellow words SCREEN CAPTURED in the middle of your screen. Note: You will not get this confirmation if you have the game interfaces hidden. You will however notice a brief pause in the game animations ect.
Another important note is this: If you have your cursor active in the chat boxes, IT WILL NOT TAKE SCREEN SHOTS. Be careful not to hit enter if you intend to screen shot something. This also goes for the alternative languages box.
Your screen shots are always found in your Neverwinter Nights 2 folder that is found in your "My Documents/ Documents" folder (not the directory for the game in your "Program Files" directory). Often they are given long names that are actually dated and timed. This helps keep them in order, but I still like to rename mine with a system that works for me to keep them classified by event or conversation, and in order. Alternatively, I simply put related Screen Shots in a zip folder that is dated and given a short name so I know what conversation or what have you, that it is.
In the very rarest of occasions, the game will not take screen shots even if you have reset the key binding, and have made sure that your chat boxes are inactive. Unfortunately it is usually something that happens (I do mean very rarely) because of lag or game crash. The only way around this that I have found is to either use a separate screenshot program like FRAPS (Which I have not ever used because I don't need it. However if you do a lot of 'spying' or 'shady' IC stuff, I recommend it. Highly.) And to keep logs. I will cover logs in a later How To.
Now then. To post/share these screen shots with the DM/Staff teams as needed or requested. There are several resources available. The most common is to use an image sharing website like Photobucket. This is the one I use simply because it is mostly hassle free. I have also had no trouble with lost/corrupted images, or viruses/spy ware/adware ect. from this site. Then you simply copy the [IMG] link given. Use this link/code when posting in PM or forum posts.
If emailing or sending a large batch of screenshots, I recommend a compression program like 7zip, which is easy to use and makes tiny files. I also use Dropbox, In which case you simply add the screenshot zip, or screenshot to your Dropbox folder, then follow Dropbox's instructions to get the public link. Paste the public link in the PM/Email/Forum post. The reader can then download the image, or zip containing images.
I find it monumentally useful to keep my screen shots, and usually back them up to a disc or something for future reference. Also, just because you don't need them right away, doesn't mean you might not in the future.
Now then, for whatever reason, if you are submitting screenshots on the forums, please follow forum posting rules, found here:
Subject: Forum Rules
If you can't put the screen up without offending someone, giving out 'sensitive IC info' or it might break the forum posting rules… then you should likely send it in a polite PM to the DM/Staff folks. Emphasis on polite… I also recommend constructive and neat. Make sure the screen shots you submit are legible… Don't resize them to the point that they aren't readable. Don't over edit them. Especially don't edit them to the point that it leaves out important info. If you crop them for size, or whatever, or edit them to remove the conversation you had in tells with your best friend about the trip to the lake, or whatever, I suggest keeping the originals, and saving the edits under another name. Bear in mind that in tough situations or heated arguments, DM/Staff may ask for originals.
General rule of thumb is to follow the IG rules at all times. Found here:
Subject: SERVER RULES
I think this has covered the important info on Screen shots. If I missed something though, send me a PM at your leisure.

_________________


"Play nice." Mum




"Mercy, even to the least deserved."




"Revenge is beneath me, but Accidents happen..."




"Even Echoes fade to silence."